What Recreation Directors Are Saying About The CGA And NCGC Program:

750 Universities, 50-80 Local Qualifiers, 1 partner, 1 National Champion

Collegiate Golf Alliance
NCGC Player Page
Compete for your University in three divisions
Student - Faculty/Staff – Alumni/Community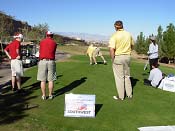 This amateur golf event is focused on university amateur golfers and consists of local qualifying tournaments held across the United States in the spring, summer and fall. Local Qualifying winners advance to the official National Collegiate Golf Championship in Las Vegas November. The CGA and NIRSA promote and market the event to over 750 colleges and universities making this the premier recreational college golf event.
All Local Qualifier golfers receive:
One year Subscription to Golf World or Golf Digest
$10 Golfsmith gift card for each player
Nike prize pack for contest winners
Top three teams in each division earns an invitation to National Championship
Travel assistance to the Nationals in Las Vegas for the top teams

National entry covered by some Universities

Participation in exciting contests