University of Southern Mississippi and Western Kentucky
Capture Alumni/Community and Faculty/Staff Divisions
Championship Photos
Pairings Party Photos
Registration Photos
November 12, 2006
Las Vegas, NV - In a dramatic turn of events, Gianni Sacilotto and Bryan Sandoval of Cal Poly Pomona charged past the University of Miami team with a two shot swing on the final hole. The pair shot a seven under score of 65 to win the 2006 National Collegiate Golf Championship (NCGC) at The Revere Golf Club in Las Vegas, NV. The fifth year two-person scramble event, organized by the Collegiate Golf Alliance (CGA) showcased over 45 teams representing 35 different colleges and universities.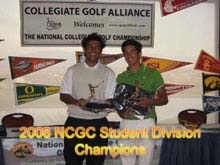 The victory for the Cal Poly Pomona team was a combination of steady play in harsh conditions and some timely luck. As Gianni Sacilotto and Bryan Sandoval were grinding out their 8 birdies and one bogie, they were helped by the finishing hole for the University of Miami. In this shotgun start event, the Miami team finished on the par 3 12 th hole which was playing 243yds downhill into swirling winds. University of Miami's Eric Covert and partner Curtis Easton teed up their final hole with a one shot lead over Pomona. However, both Covert's and Easton's tee shots found hazards and they both missed 10 foot putts to save bogie and a tie, thus opening the door for Pomona to take the Championship.
"We got some momentum," said Sacilotto from Pomona. " We started birdie, birdie, and then 4 pars in a row but then the ball started to roll. Not bad. We gave ourselves some good opportunities for birdies. We found out that it's a lot easer to make birdies when you're a lot closer to the hole!"
The NCGC is made up of 40 Local Qualifying tournaments hosted by Universities across the country. Teams must qualify to earn a berth into the National Championship. Sacilotto, a Junior from Diamond Bar, CA and Sandoval a Senior from La Habra, CA qualified for the championship through the Cal Poly Pomona Local Qualifier with a 5 under victory score of 67.
The Championship round was played at The Revere Golf Club. Measuring 7,034 yards, a par-72 layout slope and rating of 126/72.8, the golfers were tested with a true challenge for the Championship. The field, that featured 29 two-person teams in the student division, Sacilotto and Sandoval carded a seven under at 65 to beat University of Miami golfers Eric Covert and partner Curtis Easton (six under 66) by a stroke, and Nick Miller and Adam Tiedt from University of Iowa who shot a 67. For a complete listing of results, see the CGA website .
"We were pleased that we had the resources to be able to send our winning student team to the national tournament. Involvement at the national tournament was what we were hoping for, as well as our representative team having a good time and experience. Winning the tournament was completely unexpected, but it was great to be able to showcase our students and what a smaller program is capable of. GO BRONCOS " -- Sean Del Rossi, Cal Poly Pomona Recreation Director.
Gianni Sacilotto and Bryan Sandoval received a pair of round trip tickets from Southwest Airlines and a full return package to Las Vegas and an automatic entry to the 2007 Championships to defend their title.
" We are excited to come back to defend our championship and for the Red Bull Pairings Party! We were having fun," exclaimed Sandoval.
Faculty & Staff Division
University of Western Kentucky wins National Championship in first year of competition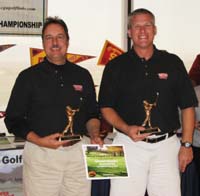 The winners of the Faculty & Staff division were Gary Meszaros and Peter St. Pierre from the University of Western Kentucky shooting a score of 69. Meszaros and St. Pierre were a late addition to the Championship, qualifying in a 1 st year event at Western Kentucky. In the Championship, Meszaros and St. Pierre carded a 3 under to defeat Mark Mallick and Nick Hernandez from UCLA by three strokes.
"We birdied the 1 st hole and went down hill from there with a few bogies but we kept playing to have fun, and picked it up towards the end. The two kids that we played with were outstanding. We just played for fun and to be competitive was even better" said St. Pierre.
"It worked out well; we ended up with 6 birdies and 3 bogies on a very tough, windy, cold course. It was enough to win," stated Meszaros.
"We only knew about this event 3-4 weeks ago that we were going. Steve Ray from Intramurals talked us into going the last second. It worked out real well, we were glad to hear about it, and now we are ready for next year" stated St. Pierre.
Alumni & Community Division
Greg Howell and Anthony Lee from Southern Mississippi repeat as Alumni &Community Champions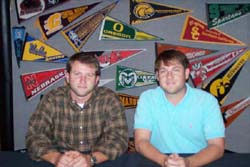 University of Southern Mississippi showed their power by taking the top two places in the Alumni & Community division. Greg Howell and Anthony Lee defend their 2005 championship by carding a three under at 69 to win by a stroke over the second place team of Justin Cockrell and Dave Melancon also from Southern Miss. Both 2001 graduates in Business Administration, Southern Mississippi will be ready to represent their school in 2006.
"We started out good. Greg hit some good shots and putted very well on the back 9. When I hit a bad drive he hit a great drive and visa versa. He hit his irons really well today. I was pleased with the way we played today, we made a few dumb bogies but that's golf," said Lee.
" We been really good friends for 15 years, we have been playing golf together for a while, " said Howell. It looks like they have another golfing memory to add to their friendship. " We'll have to work hard to qualify next year to get back here to go for three in a row " claimed Howell.
NCGC Local Qualifier Tournament Directors attend the National Championship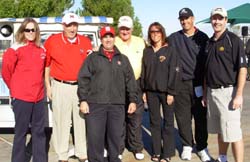 Eight of the 40 Local Qualifier Tournament Directors attended the Championship. Linda Clauss, Stanford; Bill Goa, University of Nebraska; Peter Koutroumpis, URI; Sid Gonsoulin, University of Southern Mississippi; Cindy Otte, CSUSB; Mike Munson, USC; and Mike Widen, Iowa. Not pictured but attending Damon Boze, UNLV.
More Winners
A number of contests were also held within the NCGC that allowed golfers to challenge themselves and their opponents for not only the national title but for other smaller victories as well. In short:
AFP Skills Championship

Putting Champion

5 in a row

Craig Rose

Rhode Island

SWA Long Drive

364 yards

Jeff Greyber

University of Miami

Chipping Champion

4 out of 5

Peter St. Pierre

Western Kentucky

On Course Contests

Closest to the Pin 5

Peter St. Pierre

Western Kentucky

Closest to the Pin 8

Larry Lynch

Central Michigan

Closest to the Pin 12

Sid Gonsoulin

Southern Miss

Closest to the Pin 16

Russell Wright

USC

Longest Drive 2

Gianni Sacilotto

Cal Poly Pomona

Longest Drive 13

Zach Mayer

Central Washington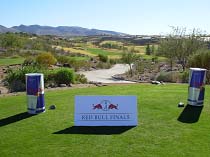 In addition to the many contests at the NCGC, sponsors added excitement with prizes and packages for participants and winners. Airline travel was provided by Southwest Airlines, who also donated prizes given out at the course. Cutter & Buck outfitted the tournament with golf shirts and almostGOLF Ball was the official campus practice ball of the NCGC. The Hospitality Room was sponsored by Advantage Fitness Products. Signage and Hole in One Insurance was provided by American Hole-in-One. Other sponsors included: Warrior Custom Golf, Sports Illustrated On Campus and Red Bull.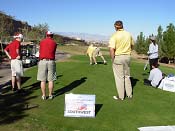 Red Bull has played an integral role in the growth of the program. This year, Red Bull sponsored 10 Local Qualifiers with the Red Bull Final 5 competition (RBF5) and the Pairings Party held Friday night at the Nellis Air Force Base. The winners of these contests were awarded a full entry to the championship including round trip airfare. At the National Championship in Las Vegas the team of Nick Miller and Adam Tiedt from the University of Iowa carded four under par for their last five holes to win the RBF5 and received their choice of any Oakley Sunglasses.
Mike Munson and Greg Long from CGA present Dave Koch, NIRSA Foundation Board Member a check for $6,714 for the 2006 NCGC program.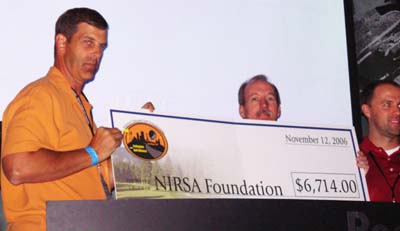 The tournament was organized and facilitated by the Collegiate Golf Alliance (CGA). The NCGC is part of the National Campus Championship Series and officially endorsed program with the National Intramural-Recreational Sports Association (NIRSA). This year, the NCGC program consisted of over 1200 golfers representing over 100 different colleges and universities. Proceeds from the tournament benefited the NIRSA Foundation, a not-for-profit organization that provides opportunities for students through professional development, research, scholarships, and educational resources.
"I'm extremely proud of the growth and success of the program," stated CGA's President and CEO Mike Munson. "The collegiate atmosphere, competition and the social aspect of the event is truly amazing."
The CGA currently serves as the premier on-line golf events and registration company for over 1,400 colleges and universities across the United States. For more information, email info@cgagolflinks.com or visit www.cgagolflinks.com .