What Recreation Directors Are Saying About The CGA And NCGC Program:

750 Universities, 50-80 Local Qualifiers, 1 partner, 1 National Champion

Collegiate Golf Alliance
University of Vermont holds off University of Iowa
to capture the
2005 National Collegiate Golf Championship
University of Southern Mississippi Wins Faculty & Staff and Alumni & Community Divisions
November 13, 2005
Complete Results and Scores
Photos of the 2005 NCGC Registration
Photos of the 2005 NCGC Pairings Party
Photos of the 2005 NCGC Pre-Championship Round
Photos of the 2005 NCGC Championship Round
Photos of the 2005 NCGC Awards
Las Vegas, NV - The road to the championship was a little longer for University of Vermont students Jeremy Appelbaum and David Grossman. The pair shot an eight under 64, to win the 2005 National Collegiate Golf Championship (NCGC) at Badlands Golf Course. The two-person scramble event, sponsored by the Collegiate Golf Alliance (CGA) showcased over 40 teams representing 30 different colleges and universities.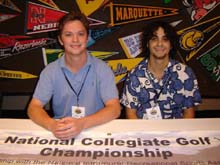 For Jeremy Appelbaum and David Grossman the road to the championship included a few more miles than most participants. The NCGC is made up of 30 Local Qualifying tournaments hosted by Universities across the country. Teams must qualify to earn a berth into the National Championship. David, a Senior Political Science major from Linwood, NJ, and Jeremy, a Geology major from Ft. Lauderdale Fl, had to drive over 300 miles from Burlington, VT. to Kinston, RI for the University of Rhode Island Local Qualifier. With their one shot victory score of 63, they qualified for the Championships in Las Vegas. Next stop, a 2,600 mile cross country trip for the National Championship.
The Championship student division was played at the Badlands Golf Course Desperado and Diablo 9's. Measuring 6893yds and a slope and rating of 133/73.3, the golfers were tested with a true challenge for the championship. The field that featured 27 two-person teams in the student division, Appelbaum and Grossman carded an eight under 64 to beat University of Iowa golfers Gardner Fuller and Eric Heinkel (seven under 65) by a stroke, and Christopher Rumbaugh and Chris Sauvageot from West Virginia who shot a 66. For a complete listing of results
" We had to prepare for this event with inside swinging and carpet putting as there has been some snow back in Vermont and the courses are closed down" "We have not played golf in six weeks so it was fun to come out and see grass and avoid the snow" . Asked if there was an advantage playing the course and being from the Northeast Grossman stated " We are used to the tight courses with all the trees up there, It's more open here but you have the deserts so you still have to keep it straight" "We like to thank the CGA, our Regional Manager and Rec Sports for the opportunity. We come from a program that was cut so this provides an opportunity to go out and compete . We traveled pretty far so well definitely celebrate tonight" closed Appelbaum
An interesting side note for the University of Vermont golfers. The NCAA men's golf program was dropped a few years ago and both golfers are active in the Club Sports Golf Program.
Faculty & Staff Division
University of Southern Mississippi wins back to back National Championship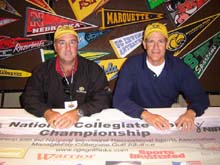 The winners of the Faculty & Staff division were once again David Beckett and Kerry Geroux from the University of Southern Mississippi shooting a net score 74. Beckett and Geroux won the 2004 National Championship and needed a birdie on their 18 th hole in their Local Qualifier to win the entry to the nationals by one stroke. In the Championship, Beckett and Geroux carded a 74 to defeat Judy and Rick McNeil from Michigan State University by two strokes. Their experience playing in last year's championship helped them finish with 3 birdies in the last 4 holes. Both are talking about a Three-Peat.
" We had a good year last year and I think we'll definably do better this year " stated Dave Beckett on Friday before the Championship . "It was an up and down day. We started with a birdie and then had a few bad shots in the middle of the round but we finished strong at the end " said Kerry Geroux. " We'll be working on our 3-peat for next year, that's our plan" closed Beckett.
Alumni & Community Division
Greg Howell and Anthony Lee from Southern Mississippi capture overall Championship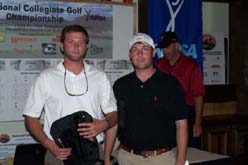 Greg Howell and Anthony Lee blew away the competition in the Alumni/Community division carding an eight under 64 to win by an impressive 8 shots over second place team of Michael Nakunz and Wayne Spencer from California State University San Bernardino. With their 64 the team from Southern Mississippi tied the University of Vermont team for the overall Championship and won on the 5 th card off hole when Southern Mississippi parred the number 6, par 4 - 400 yard hole and the University of Vermont carded their only bogie of the round. As the 2005 Champions, Howell and Lee received a pair of round trip tickets from Southwest Airlines and a full return package to Las Vegas and an automatic entry to the 2006 Championships to defend their title. Both 2001 graduates in Business Administration, Southern Mississippi will be ready to represent their school in 2006.
More Winners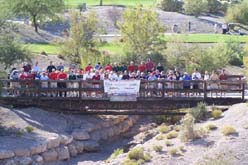 A number of contests were also held within the NCGC that allowed golfers to challenge themselves and their opponents for not only the national title but for other smaller victories as well. In short:
Closest to the Pin 5 & 8 Doug Richley, University of Central Michigan; Closest to the Pin 14 Chris Rumbaugh, West Virginia; Closest to the Pin 16 Mike Nakunz, California State University San Bernardino. Longest Drive winners on #4 Will Madrid, UCLA; Longest Drive on #11 Mike Lyons Arizona State University. Stephen King from the University of Arkansas was the winner of the chipping contest with Greg Levitt from UNLV placing 2 nd and Kerry Geroux from University of Southern Mississippi taking 3 rd . Five participants qualified for a chance to putt for $5,000 cash, but like most Vegas visitors, all five fell short of the big bucks. Putting finalists: Brett Coppola and Kevin Yee from USC, Stephen King, University of Arkansas; Mark Taravella, Colorado State University and Doug Richley, University of Central Michigan.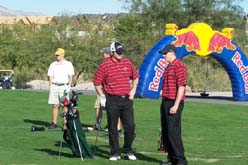 In addition to the many contests at the NCGC, sponsors added excitement with prizes and packages for participants and winners. Selected airline travel was provided by Southwest Airlines, who also donated prizes given out at the course. Cutter & Buck outfitted the tournament with golf shirts and almostGOLF Ball was the official campus practice ball of the NCGC. The Hospitality room was sponsored by Advantage Fitness Products. Signage and Hole in One Insurance was provided by American Hole-in-One. Other sponsors included: Warrior Custom Golf, Sports Illustrated On Campus and Red Bull. Red Bull was a large part of growth of the program. This year, Red Bull sponsored 9 Local Qualifiers through the Red Bull Final 5 competition (RBF5) and the Pairings Party held Friday night at the Ice House Lounge. The winners of these contests were awarded a full entry to the championship including round trip Airfare. At the National in Las Vegas the team of Chris Runbaugh and Chris Sauvageot from University of West Virginia carded four under par for their last five holes to win the RBF5 and received their choice of any Oakley Sunglasses.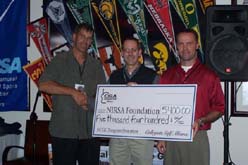 Mike Munson and Greg Long from CGA present Tom Kirch,, Region VI Vice President a check for $5,400 for the 2005 NCGC program.

The tournament was organized and facilitated by the Collegiate Golf Alliance (CGA). The NCGC is part of the National Campus Championship Series and officially endorsed program with the National Intramural-Recreational Sports Association (NIRSA). This year, the NCGC consisted of over 900 golfers representing over 100 different colleges and universities. Proceeds from the tournament benefited the NIRSA Foundation, a not-for-profit organization that provides opportunities for students through professional development, research, scholarships, and educational resources.

"I'm extremely proud of the partnerships that have facilitated the growth and success of the program," stated CGA's President and CEO Mike Munson. "The competitive atmosphere and social setting of golf that allows students, faculty, and alumni to compete for their university is truly outstanding."

The CGA currently serves as the premier on-line golf events and Registration Company for over 1,400 colleges and universities across the United States. For more information, email info@cgagolflinks.com or visit www.cgagolflinks.com