What Recreation Directors Are Saying About The CGA And NCGC Program:

750 Universities, 50-80 Local Qualifiers, 1 partner, 1 National Champion

Collegiate Golf Alliance
MBA Students from University of Texas Austin
win inaugural Collegiate Golf Championship
December 8, 2002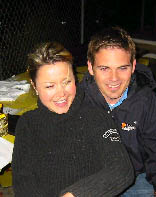 Las Vegas, NV - The Western Collegiate Golf Championship, hosted by Collegiate Golf Alliance, crowned the inaugural Champions from the University of Texas at Austin. Amanda Helvie and Justiin Allen shot a team better ball net score of 68 to edge a team from USC by a stroke at Badlands Golf Club in Las Vegas. Regional Champions from five regions qualified for the Western Region by winning their regional tournament. Teams were flown to Las Vegas on Southwest Airlines, received a hotel room at Treasure Island and entry into the Western Regional.

The Regional included three divisions, Students, Faculty/Staff and Alumni/community. The competitions were close throughout the day with an Alumni team from USC, Mark Easterday and Greg Long taking the early lead at the turn with at 34, but three teams were within two strokes including Allen and Helvie.

The Texans shot an even 34 on the back to distance themselves from the USC and the University of Southern Miss teams to win the championship. Justin and Amanda are both in the MBA program at UT and Amanda was a member as an undergraduate student of the USC Trojan Golf Club. Here is what they are saying about the CGA Collegiate Golf Championship
"Great track, I loved it"
- Justin Allen, UT Austin
"I was shocked at the quantity and quality of the awards being given out. Very expensive golf clubs and gear was awarded and raffled; I believe everyone left with far more than the cost of their play."
-Mark Hikin, Director, Sport Clubs University of California
"This event is the collegiate golf world's hidden treasure."
-Peter Koutroumpis, Intramural Director, URI

A large part of the success of the tournament was due to tremendous support from the CGA sponsors. American Golf sponsored the golf and various prizes. Southwest Airlines flew all the regional winners to Vegas and provided championship prizes. PinUp Golf sponsored the Guess your Distance contest and donated a Taylor Made 500 driver. Merrill Lynch sponsored and conducted the putting contest while Warrior Custom Golf donated a set of clubs for the 2 nd place team and also provided wedges for all participants.

This is the inaugural year for the CGA Collegiate Golf Championships. Regional tournaments in New England, Mississippi, Wisconsin, Texas and California drew over 350 participants. Weather was a factor in two regionals with rain and snow limiting additional participants. Plans are under way for an expanded local, regional and national Collegiate Golf Championship for 2003. Collegiate Golf Alliance is the premier online golf registration and management tool serving the needs of colleges and universities. For further information logon to www.cgagolflinks.com

Contest Winners :
| | |
| --- | --- |
| Contest | Names |
| Longest Drive | Mark Easterday, USC & Mark Hikin, Cal, Amanda Helive, UT & Kathy Andrews, Cal |
| Closest to Pin | Jeff Rose, U Southern Miss & Taylor LaFontaine, U Southern Miss |
| Guess your distance | Chris Soeisa, URI |
| Putting Contest | Pat Jamison, URI |
| Spirit Award | CAL- Kathy Andrews, Mark Hikin, Kate Hubberty & Daryl Mathews |
Team Awards:
| | |
| --- | --- |
| Awards | Names |
| 1st Place Student | Justin Allen & Amanda Helive, University of Texas, Austin |
| 2nd Place Student & Low Gross | Chris Nations, Justin Cockrell, U Southern Miss |
| 1st Place Alumni | Mark Easterday, Greg Long, USC |
| 1st Place Faculty/Staff | Mick Deluca, UCLA & Mike Munson, USC |