NIRSA Conference in Austin
April 2nd-5th
NIRSA Foundation Golf Tournament

We'll kick off the NIRSA Conference as a sponsor of the NIRSA Foundation Conference Golf Tournament on Wednesday, April 2nd. We'll showcase some of our NCGC sponsors Matrix Fitness and Red Bull. We'll one NIRSA Foundation golfer will win entry to the NCGC in Las Vegas through the Red Bull Final 5 competition, including travel to and from Las Vegas. Matrix Fitness will sponsor the Beverage Carts and some one will walk away from the tournament with a new Elliptical. We'll also showcase the new Skills Challenge sponsored by almostGOLF. Golfers of all abilities can compete in the skills challenges for some outstanding prizes both at the tournament and in the exhibit hall.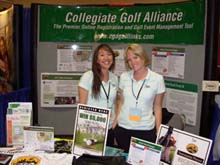 Expo Booth #839 Thursday and Friday
On Thursday and Friday CGA will display at the NIRSA Exposition in booth #839. Come meet our CGA staff and learn about some exciting programs as well as register for the 2008 National Collegiate Golf Championship. We have programs available for schools that want to start a golf club or run a small tournament as well as resources for the established schools with multiple golf events and large tournaments. Also try your luck on our $5,000 putting contest.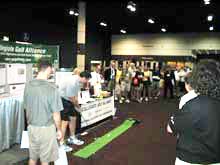 NCGC- How to organize, operate, participate and compete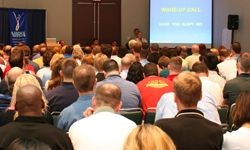 Join past NCGC participants and tournament directors to learn effective strategies for organizing and managing a NCGC Local Qualifier. We'll cover all of the details, benefits and requirements to be a Host School. Hear from different directors how they organized and implemented a tournament. Attend our session and receive an Upswing Golf Wedge Certificate.
Campus Golf Programming and the National Collegiate Golf Championship
Mike Munson and CGA Staff, Collegiate Golf Alliance
This session will focus on recreational golf programming for campuses of all sizes. The session will include the details and launch of the 2008 National Collegiate Golf Championship. Come and learn how to increase
golf programming and participation on your campus.
Expo Skills Challenge – Thursday 6:30pm Expo Demo Area
almostGOLF and Red Bull Skills challenge for a trip to Las Vegas
Compete in the NCGC Skills challenge where selected individuals from the Foundation Golf Tournament will go head to head to see what two people will win a round trip ticket and full NCGC entry package to the finals in Las Vegas. Try your luck at the putting, chipping and Long Drive Contests.
---
What's New for 2008
We are very excited to announce new partnerships and programs for the 2008 National Collegiate Golf Championship. With the addition of these valuable partners and programs the NCGC program has increased the value for participants while escalating the exciting programming opportunities for your campus.
Matrix Fitness Silver Sponsorship


Matrix Fitness has increased their backing of the NCGC program through support at all Local Qualifiers and the National Championship. Matrix will become the official beverage cart sponsor for all NCGC events. Water, soda and/or sports drinks will be provided to all participants by the Matrix beverage cart sponsorship. Proper hydration is largely beneficial to golfers so providing beverages, free of charge is another attractive benefit of Local Qualifiers. Matrix will also provide to all LQ participants a hat clip ball marker tool. In addition to these outstanding value adds, Matrix will donate an elliptical to selected tournaments. Matrix offers a complete line of cardiovascular and strength training equipment for college, universities, health clubs and other fitness facilities.
And lastly, at the National Championship in Las Vegas, Matrix will be the entertainment sponsor for the Pairings Party at GameWorks. We are excited to be working with Matrix Fitness, their outstanding sales staff, quality products and support. Their support of the CGA and NCGC is a huge benefit for all of our member schools and participants.
Recreational and Competitive Competition
Now in its 7th year, the NCGC offers a wide spectrum from recreation to competitive golf for all participants. The two person scramble allows for a recreational golfer to experience the competitive nature of a tournament at the local level. Top finishers at the Local Qualifiers get the chance of a lifetime to represent their school by advancing to the National Championship in Las Vegas. The weekend of the National Championship, golfers get to meet players from around the country and compete against some of the best golfers in the United States. Many of these golfers opted not to play for the NCAA team, or just missed the cut, but their competitive nature and their skill level is still at a high level. The National Championship allows them the chance to become a National Champion.
Three Divisions- The other benefit of the NCGC is there are three divisions; Student, Faculty/Staff and Alumni/Community. In years past, we have had some great combinations including Father/ Son, Alumni member and construction contractor, brothers and friends. The NCGC allows numerous ways for people to connect to your to your university The three competition divisions allows more participation and increases support from different parts of the campus Several schools have sent representatives in all three divisions to the National Championship. The camaraderie, the future relationships and the team photo is priceless.
Upswing Golf


What an unbelievable benefit to be able to offer all participants in your tournament a free wedge. That's what all LQ players get from Upswing Golf. In addition to the wedges, Upswing Golf will send each Tournament Director a Hybrid, Driver and Putter that can be used as prizes, raffles or silent auction items at the Campus Expo. On top of their support of the LQ's, Upswing hands out a personalized wedge to all participants who make it to the National Championship. The NCGC logo is on the club and the players name on the shaft. What a great gift.
Fox Sports

Fox Sports (FSN West and FSN Prime Ticket) is the Los Angeles-based cable sports networks serving Southern California, Southern Nevada, and Hawaii. They are owned by Fox Cable Networks, a subsidiary of ( News Corporation's Fox Entertainment Group.) and this year, will cover the National Championship in Las Vegas. Interviews, story lines and highlights will be shown on selected regional stations. We're not expecting the coverage to run live against a national or regional professional or a NCAA sporting event, but coverage of the NCGC is an important step in expanding and increasing visibility of the program. This coverage will also provide footage to local stations in areas that either hosted a Local Qualifier or have individuals who participated in the National Tournament.. Practice those 70 foot curling putts or bunker hole outs and you might be on one of the highlights!
Southwest Airlines

Southwest Airlines (an American low-fare airline based in Dallas, Texas, is the largest airline in the United States by number of passengers carried domestically per year flying almost 100 million passengers a year to 63 great cities all across the country) sponsors the NCGC How Far Did Ya Fly Long Drive contest and serves as the official Airline of the NCGC, now providing more free flights to get participants to the National Championship in Las Vegas.
50+ players in Local Qualifier 1 pass
100+ players in Local Qualifier 2 passes
---
Recap of 2007 NCGC Championship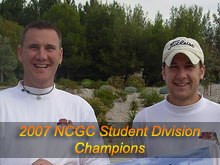 Students Craig Heinzman and Kyle Lickenbrock from Southern Illinois University Edwardsville won the 2007 National Collegiate Golf Championship at The Badlands Golf Course in Las Vegas , NV . The victorious twosome shot a seven under par 65 in the two-man scramble event, edging out the team from Campbell University by one stroke to win the world's largest collegiate golf competition.
NCGC Championship Summary
NCGC Championship Results
NCGC Video
NCGC Photos
---
NCGC Participant Feedback
To start out I would like to say how overwhelmingly impressed I was by the organization of the tournament. The entire time that John and I spent in Las Vegas was so well coordinated that we were left only to make the most of our experience. Being my first time in Las Vegas, I relate the experience to that of a young child on Christmas morning. Other than the poor golf played by my partner and I, a major highlight of my trip was the walk I took down the strip. The overall grandeur of the strip hotels is one of the most amazing things I have ever witnessed. The tournament setup offered participants the opportunity to experience all Las Vegas had to offer, while keeping the quality of golf at a premium.
Coming from the Midwest I had never experienced desert golf before. Although I will admit that the snake warning signs were a bit unnerving and the fairways unforgiving, some of the views on the Badlands Golf Course are unparalleled to any I have seen before. Being given the opportunity to play with people from across the nation allowed my partner and me to meet and share our passion for golf with many. Also, the practice round activities allowed participants to realize they were there for a fun weekend while offering the true competitor an opportunity to tune up his game for the tournament round to be played the next day. Through the generous participation of sponsors Red Bull and almostGOLF I think nearly everyone was able to enjoy their time at the golf course in their own way.
Overall I took a lot from the short weekend spent in Las Vegas. Luckily Las Vegas failed to take an equal share from me at days end. Due in most part to the generosity of Marquette University and the dedication of time on behalf of John Kratzer (local tournament coordinator) I was able to experience an amazing weekend in Las Vegas without the normal worry and hassle of a vacation. Despite a looming Economics paper, the Collegiate Golf Alliance provided a fantastic weekend that was well planned and executed by all involved.
Thank You,
Andy Verchota
Marquette University

Hosting a local qualifier for the 2007 National Collegiate Golf Championship was a great experience, and proved to be a major highlight of the semester programs for the Department of Recreation for Rutgers University. While the weather did not cooperate as we had expected, we still had over 40 golfers attend our local event, sending our 2 student winners to the NCGC in Las Vegas in November. This was definitely the best prize package we have offered for any Intramural program ever, and the students were amazed that they would get to compete in such a high profile event. Attending the NCGC provided our students the opportunity to meet and compete with the best competition across the country at the largest collegiate golf competition in the world.
I was also fortunate enough to travel with our students, and the event enabled local tournament directors like myself to network with personnel from great sponsors like almostGOLF and Red Bull, as well as with other tournament directors and colleagues in the same industry.
As for the course itself, I have seen or played many elite courses in New Jersey, however, nothing compares with the golfing experience I shared with the students at the Badlands Golf Course. The NCGC was an event like no other, and I look forward to hopefully returning again next year! Thank you CGA!
--
Steven Verba
Intramural and Sports Club Coordinator
Rutgers, the State University of New Jersey

NCGC Student Perspective
My name is John Borneman, and I am a junior at Marquette University. I am one of four students with ties to Marquette that recently had the opportunity to travel to Las Vegas, Nevada, and compete in the National Collegiate Golf Tournament. I know that without the help and financial support of Marquette University, I never would have had the chance to experience the tournament. Because of that fact, I would like to take this chance to show my appreciation.
For most college students, the prospect of competing athletically became unrealistic after high school. But because of the efforts of Marquette University, I was able to maintain a competitive outlet for golf even while enrolled at Marquette University. The three-day trip was one that I can describe only as amazing, and it far exceeded my standards in every way. I would like to thank the University for providing literally everything for us, from airfare to hotel rooms to even the shirts on our backs.
As a competitive golfer in high school, I thought my time to compete in high-level golf tournaments was over when I enrolled at Marquette University. But upon arriving in Las Vegas, Nevada, to play in the National Collegiate Golf Tournament, I realized that absolutely was not true. From the beginning, my partner and I were treated like real competitors, and I can not think of any better way to acclimate oneself to Las Vegas and the rest of the tournament competitors than the pairings party that first night. The skills challenge and practice round the next day offered another unique experience, and one that I will not soon be forgetting.
Although my performance in the skills challenge (or lack there of) was a sign of things to come during the tournament, I must say I enjoyed every minute I spent on the Badlands Golf Course. The chance to be able to play in a tournament at a golf course prestigious enough to be immortalized in at least one version of the popular series of Tiger Woods video games was one I never thought I'd have. On the whole, the three-day Las Vegas trip was something I know any college student would be jealous of, and I can't tell you how much I appreciated the opportunity. But perhaps the most important and valuable resource offered by Marquette was the assistance of John Kratzer. I grew up in a small town, and to be honest, living in Milwaukee is a big deal to me. As a result, Las Vegas could have been very daunting. But Mr. Kratzer was there to help guide us every step of the way, steer us in the right direction, and make sure we always had a safe way home. His help proved to be invaluable, as even before we left for Las Vegas he guided us through every step necessary to ensure we were prepared for the tournament.
Again, I would just like to take this chance to say thank you for the unique opportunity that the support of Marquette University offered to four students. This tournament was far and above the typical college experience, and something I am sure I will look back upon fondly in the future.
Thank you,
John Borneman
Junior, 2009
--
I could not have imagined a more organized event in which I, as a competitor, did not have to worry about anything. It was a great experience that I hope Marquette continues to participate in. It offers students, faculty, and alumni throughout the nation an opportunity to appreciate other schools at a highly competitive level. Please tell your Student Affairs V.P. thank you. Thank you to you as well.
Marc Babyar
--
I wanted to say "THANKS" from the Central Oregon Community College golfers for the great tournament you hosted last week. The group all agreed it was one of the best events they have been involved with. They very much appreciated the great organization of the tournament along with the generous hospitality you and the committee displayed.
Once again, thanks for the great tournament and COCC looks forward to participating in future events!
Sincerely,
Bill Douglass
Central Oregon Community College
Director of Sports and Recreation

---
Collegiate Golf Alliance celebrates 10 years


It seems like yesterday when three Recreational professionals and avid golfers developed the concept of the Collegiate Golf Alliance. Who would have thought that two USC Trojans and one UCLA Bruin could develop a business together? The concept was simple; provide resources and develop golf programming for colleges and universities while increasing the awareness of campus golf programs.
It had become evident to us that schools were running several fundraising tournaments along with Intramural tournaments. There were Student Clubs Faculty/Staff Golf Clubs and a number of schools had their own course or practice area. Golf programming on the college campus was starting to increase along the time that Tiger hit the airways and fairways. The challenge was that while the popularity of golf was increasing, especially with the college population, there was no support or unity among those programming or those playing. Each school or individual was a single without a group to play with. The CGA provided the organization for form a unified group.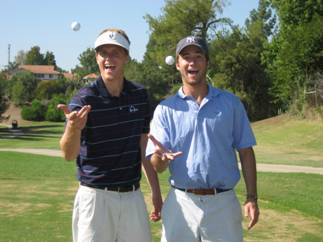 The purpose of the CGA is to provide the resources and services for the development of golf programs primarily on the college campus. Tools and resources are available to help develop golf programs, affiliate golf interest clubs, lessons, clinics, fundraising tournaments, non -competitive outings, and social functions in your community.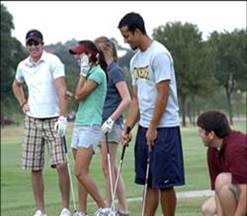 CGA has experience in golf course management and has served on several state and regional golf boards and committees. The managing partners are active professional associations and have chaired several committees that developed national and regional fundraising tournaments. Having made numerous professional presentations related to the golf industry, the managing partners have implemented Southern California Golf Association Affiliate Golf Clubs at major universities on the West Coast. Some of the University clubs have over 250 student, staff, faculty, and alumni members at each campus. One of the Major beneficiaries is the NIRSA Foundation. The CGA has supported the Foundation with over $50,000 in donations through varies golf programs and tournaments.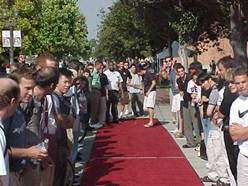 The CGA also provides resources to meet the needs of tournament directors. Coordinating a small outing or large fundraising tournament can be a very time consuming task. CGA has numerous resources available to assist tournament directors with the organization, quality and efficiency of the tournament. Online registration and management tools reduces the amount of time a director needs to spend on logistics while increasing the communication lines between the tournament host, sponsors, participants and media.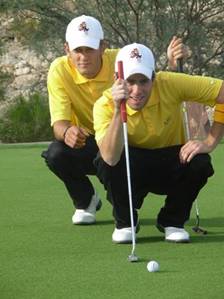 The CGA has also identified the needs of the competitive golfer. In 2002 the National Collegiate Golf Championship, NCGC, was developed. Over the past six years almost 5,000 golfers have participated in Local Qualifiers across the country. Billed as the Largest Collegiate Golf event in the country, the NCGC allows students, Faculty/Staff and Alumni the change to compete together in Local Qualifiers. The chance to represent your university in a National Championship is a experience of a lifetime and now more college kids have that opportunity with the growing number of Local Qualifiers across the country. The competition and camaraderie among golfers across the country has truly made the NCGC a unique event.
It's been an amazing 10 years and we are looking forwarding to providing our members additional events and services for the next 10 years and beyond.