Join the CGA activities in Louisville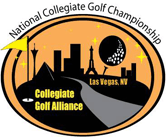 We are looking forward to the NIRSA conference in Louisville. It's a great chance to see old friends and to make some new acquaintances. The CGA has a long standing relationship with NIRSA and is proud to be a part of their conference. We'll also be at various activities during the conference so we hope to see all of you in April.
NIRSA Foundation Golf Tournament
Expo Booth #729 Wednesday and Thursday
Educational Session
NCGC Local Qualifier Tournament Director Reception
Expo Skills Challenge
NCGC to offer Ten Super Packages


Earn Free National travel and entry

Ten schools will be selected to participate in the NCGC as a Super Site. These ten schools will enjoy all of the regular NCGC benefits but will be a showcase for the Red Bull Final 5 and the AFP Expo Challenge.

Red Bull will once again award ten National travel packages to Las Vegas and entry to the NCGC for selected schools. These ten Super Sites will also host an on campus Golf Expo complete with golf contests, demos, prize give-always, as well as selected sponsor activities. The AFP Expo Challenge will include a $25,000 putting contest, chipping and guess your distance contests.
---
Applications for Hosting National Collegiate Golf Championship Local Qualifying Events are Due May 15, 2006
NIRSA and the Collegiate Golf Alliance are pleased to announce the expansion and launch of the 2006 National Collegiate Golf Championship (NCGC). The 2006 event is an officially endorsed NIRSA program, with portions of proceeds benefiting the NIRSA Foundation. Over $12,000 has been donated to the Foundation in the last two years.
A 2-person scramble event for recreational golfers, the NCGC allows golfers to compete for their university to see who will be the 2006 champion. To learn more about the program or to apply to host a Local Qualifying Event, please visit http://www.cgagolflinks.com/ncgc.asp
---
University of Vermont holds off University of Iowa to capture the 2005 National Collegiate Golf Championship
University of Southern Mississippi Wins Faculty & Staff and Alumni & Community Divisions
Las Vegas, NV - The road to the championship was a little longer for University of Vermont students Jeremy Appelbaum and David Grossman. The pair shot an eight under 64, to win the 2005 National Collegiate Golf Championship (NCGC) at Badlands Golf Course. The two-person scramble event, sponsored by the Collegiate Golf Alliance (CGA) showcased over 40 teams representing 30 different colleges and universities. Link to the rest of the article.
Warrior Custom Golf increases support to NCGC
Wedge certificates for all players and sets of wedges and clubs for selected events
Long time CGA partner Warrior Custom Golf has stepped up to the TEE BOX and announced increased support of the National Collegiate Golf Championship. Warrior will once again provide a Free custom-built 60° lob Wedge or a complete set of three Warrior Wedges to all NCGC participants. This year Warrior will also be sending selected tournaments sets of wedges and set of clubs as part of their NCGC Sponsorship.
"These clubs have great fit and control, and the wedges are an outstanding gift. This program also allows a new golfer a chance to a custom built set of clubs at a great price" stated CGA President, CEO Mike Munson
CGA National Sales Manager- Quentin Stone
March 1, 2006
Collegiate Golf Alliance announced today that Quentin Stone has joined the company as the National Sales Manager. Quentin will oversee six to eight Regional Managers and will implement the CGA University Golf 101 Program. Golf 101 will provide university tournament directors training and resources to assist them in running different types of golf tournaments and events. The programs will also showcase the CGA On line registration system, event management services as well as providing training and support for the National Collegiate Golf Championships.
Quentin has served as Regional Sales Manager for American Golf Corporation for the past four years. Prior to working for American Golf he served as XXX . Quentin graduated from Fresno State University where he was a member of the Baseball team and participated in XXX .
---
Post your Golf Events
Free Web Page Service offered by CGA

Are you organizing or playing in any college or university golf tournaments? If so, then why not take advantage of a free service offered by the Collegiate Golf Alliance. On-line event posting increases your potential for your golf tournament and provides valuable information about your event for both sponsors and participants.
Each tournament gets a dedicated web page that includes: tournament information, course descriptions, links to your tournament course and to your university. The added exposure through the CGA database of golfers is a tremendous benefit. When an event gets posted, all CGA members that identify with your university are sent an email alert about your event. With over 8,000 CGA members who have played in tournaments your event is given top exposure.
Your Golf Tournament Director also has the option to use our advanced on-line registration and management tool, which assists with tournament registration, management, pairings, communications, and results. The amount of time your Tournament Director spends on the tournament is drastically reduced and the quality of the tournament increases for everyone involved with your event. For more information and an online tutorial go to www.cgagolflinks.com or email info@cgagolflinks.com .